PR7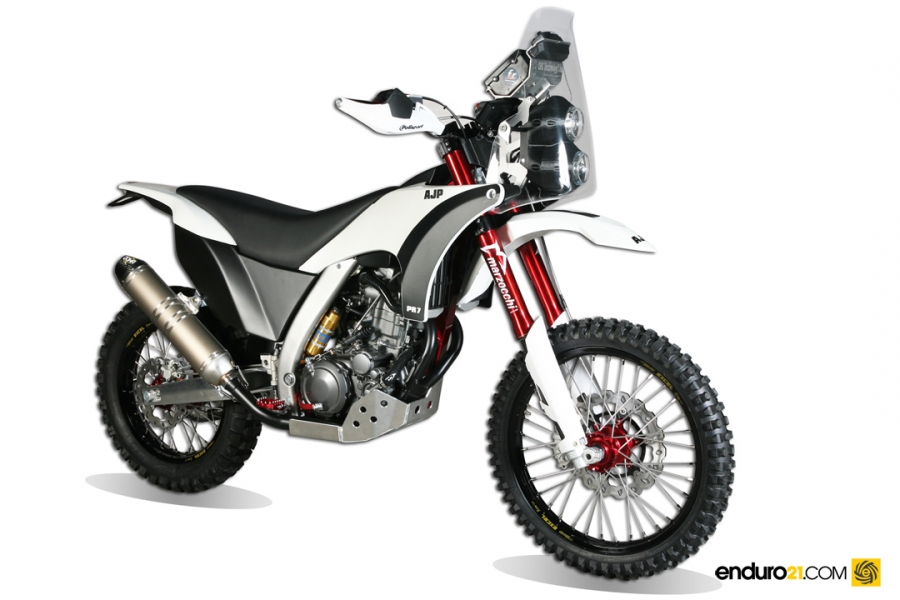 After one year of development, AJP is now ready to show the final version of the most expected PR7. The new model we are launching on EICMA keeps unchanged all the core values of the first prototype presented one year ago at Intermot, but AJP decided to take some features to a new level, creating one of the most exciting models of the last years for all trail lovers and real off road bikes users.
The trail segment is still one of the most dynamic in the motorcycle industry, with all major manufacturers being present, some of them with a considerable number of alternatives, offering a wide range of products, and above all with a market performance that shadows some of the classic segments of the recent past.
​
However, despite all the investment done, resulting in a sustainable growth of the category, the roots of the trail philosophy have been forgotten. The path is dominated by increasing performance, complex technology, high weight and less off road potential.
This is how the trail segment has evolved, with bikes more and more oriented for use on the highway, extremely comfortable and effective on the road, but unable to perform on the dirt.
AJP is, from the very first day, a brand with off road on its veins and any new model must follow the roots, even if we are entering a very important segment and fighting with all the big names of the industry.
The PR7 it's easy to define: a real off road bike, light, compact, agile, but comfortable, capable of a good mileage and designed to carry luggage.
​
From the first prototype we kept the new generation of the proved hybrid frame made of aluminum and steel, now even lighter, compact and rigid, using two lightweight twin spars bolted to the compact steering head that is used also as an oil reservoir.
The AJP PR7 is equipped with top suspensions, showing a massive inverted front fork with full adjustability, 48mm inner tubes and a generous stroke of 300mm. That's why we say this is a real off road bike bike with real dirt heritage.
On the rear, the cast aluminum swinging arm is another trademark of the brand and the progressive linkage takes full advantage of the piggyback fully adjustable rear shock, capable of 280mm of travel.
Brakes are well dimensioned with a 300mm front disc operated by a two piston caliper, and a 240mm rear rotor, allowing for a good power on the tarmac, ease of use and a great feel on the dirt.
Overall dimensions are compact and everybody knows how important is to have a bike where you feel at home when riding on your foot. This is possible because like in all other AJP models, the fuel tank is located under the seat, creating a narrow line but also mass centralization and not reducing the tank capacity, with a total of 17 liters of the precious liquid. A change from the first prototype is the location of the fuel cap, now in front of the seat.
Weight will be 165kg with full tank and all fluids included, on a bike designed to conquer mountains or deserts all over the world, using the traditional wheels of a mid-size trail (90/90-21 and 140/80-18 tires, front and rear respectively), built with the very best materials in terms of spokes, rims and hubs, because we want all future adventurers to ride on all kinds of terrain, with no fears or limitations.
ENGINE
The biggest change from the first prototype is the new 600cc single cylinder produced by SWM.
This is a compact, light and modern unit, perfect to fit in the philosophy of the model, but also a great option if you consider that it is equipped with balancer shaft (low vibration) and a six speed gearbox, allowing for the perfect exploration of the strong but smooth power produced by the liquid cooled single cylinder, with double overhead camshaft and four valves.
The bore and stroke ratio is not radical and you can expect good torque on low and middle rpm from the 100 x 76,4 mm unit, fed by a modern fuel injection system with a 45 mm throttle body.
Experienced users know that there is nothing like a single to ride on the dirt, a predictable engine with small dimensions and immediate response from the smallest throttle opening, but with this unit, there is also room for traveling on the road with smoothness and enough power to cruise on the highway.
The best of both worlds? You will have to ride it!
TECHNICAL SPECIFICATIONAJP PR7ENGINE
TYPE Single cylinder, 4 stroke, 4 v., liquid cooled | DOHC
BORE X STROKE 100 x 76,4 mm
DISPLACEMENT 600cc
COMPRESSION RATIO 12,4:1
LUBRICATION Wet sump
FUEL SYSTEM EFI Ø 45mm throttle body
STARTER Electric
CLUTCH Oil bath, multidisc
TRANSMISSION 6 Speed
CHASSIS
FRAME Composite – aluminum / steel
SEAT HEIGHT 920mm
WHEELBASE 1540mm
GROUND CLEARANCE 320mm
FUEL TANK 17 L
FRONT TIRES 90/90 – 21"
REAR TIRES 140/80 – 18"
FRONT SUSPENSION Upside down telescopic fork Ø48mm, 300mm stroke
REAR SUSPENSION AJP progressive linkage system, Sachs Piggyback shock, 280mm stroke
FRONT BRAKE 2 Piston caliper – Floating Disc Ø300mm
REAR BRAKE Single piston caliper – Disc Ø240mm
WEIGHT (WITH FUEL) 165 Kg

Luggage racks coming soon.
FREE POWER PACK UNTIL 30 JUNE 2018 (Valued at $1500)

Call us for a TEST RIDE NOW on 0427 285 623